Press Conference: New report on the global impact of the war in Ukraine on food, energy and finance systems. With UN Secretary-General António Guterres, Deputy Secretary-General Amina Mohammed and Rebeca Grynspan (UNCTAD)
Press Conference: New report on the global impact of the war in Ukraine on food, energy and finance systems. With UN Secretary-General António Guterres, Deputy Secretary-General Amina Mohammed and Rebeca Grynspan (UNCTAD)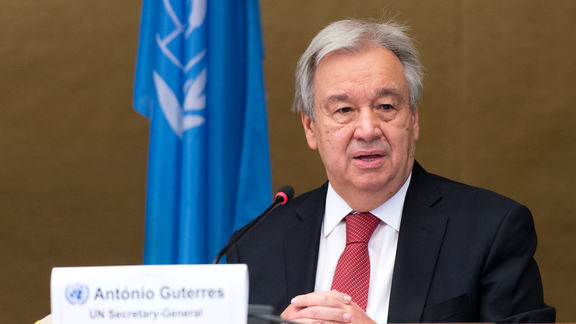 Listen:
Preview Language:
English
UN Secretary-General António Guterres presents the first detailed policy brief issued by the Global Crisis Response Group on Food, Energy and Finance (GRCG) he set up to study the effects of the war in Ukraine on the world's most vulnerable, with Deputy Secretary-General Amina J. Mohammed and Rebeca Grynspan of UNCTAD.
Available Language: English
Type
Language
Format
Acquire
Description
Speaking at the launch of the brief, Mr. Guterres pointed out that, whilst most attention is focused on the effects of the war on Ukrainians, it is also having a global impact, in a world that was already witnessing increased poverty, hunger and social unrest.
"We are now facing a perfect storm that threatens to devastate the economies of developing countries", said the UN chief.
For further details please see SOURCE below.
UN NEWS